At St Patrick's College Silverstream our students apply themselves to a number of academic, sporting and cultural activities.
School Haka
As well as having the opportunity to participate in our combined Kapa Haka group with students from St Bernard's and Sacred Heart Te Huatai Katorika, all students learn the College Haka and have multiple opportunities to practise this.
The College has particular connections to three important haka. All boys should be familiar with each of these haka and their connections to the history of the College:
The widely known haka 'Tika Tonu' was written by a Ngati Kahungunu rangatira Waimarama Puhara for his son who attended the boarding school of the old College.
Poutini was the first haka adopted by Stream after World War II and performed for many decades.
The current school haka is a celebration of the modern period of the College.
Duke of Edinburgh's Hillary Award
St Patrick's College offers the Duke of Edinburgh (DoE) at Bronze, Silver and Gold Awards. This provides a framework for personal development through extra curricular service, sporting and recreational activities. Gold level is a particularly prestigious award with these awards being presented by the Governor General.
Typically the Bronze award involves Year 10 students, Silver, Year 11 and Gold Years 12 and 13. While progression through the award years is preferred there is a more extensive direct entry option for older students who have not gained earlier awards. This allows them to stay with their year group.
For more information, contact our school Award Leader, Isabella Thompson at [email protected].
Challenge 2000 | Society of Mary Internship Projects 2023
Every year. Challenge 2000 and the Society of Mary provide an opportunity for those aged 18 to 23 to partake in a challenging but rewarding Gap/Internship Year. The Provincial Council and Challenge have discussed and made changes to this gap year, splitting the year into two internship projects as outlined in the poster attached. Any student leaving College or any person aged 18 to 23 can apply. If you require more information, email [email protected].
O'Shea Shield
The O'Shea shield is a competition between all 17 Catholic Colleges in the Wellington and Palmerston North Diocese. It is made up of a series of events which students are selected to participate in, including Scripture Reading, Religious Questions, Impromptu and Oratory in (Te Reo Maori and English), Religious Drama and Debating. This event is much enjoyed by all who participate and has been running for 74 years.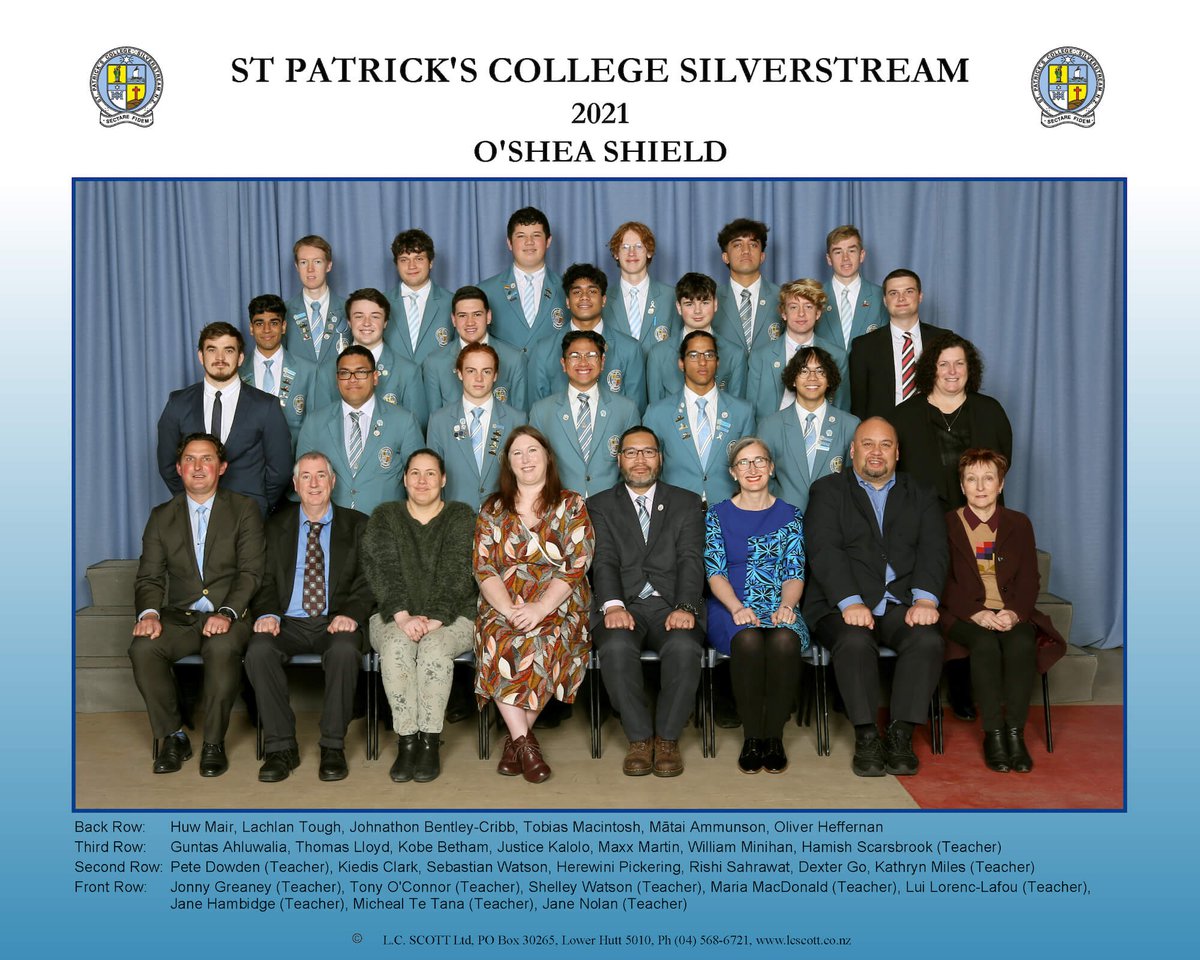 Sports
Many sports are enjoyed by our students at St Patrick's Silverstream and we know that participation in sports is an integral part of our students' Hauora. All students are encouraged to be involved in a sport of some sort during their time at school. Students can choose a summer and winter sport. Please click on the link to our Sporty website for more information about how your student can participate in sport at St Patrick's Silverstream.
Student Leadership
At St Patrick's Silverstream there are many opportunities for student leadership across the school. In Year 13, students have an opportunity to participate in the Marist Leadership Programme run by the Marist Network (MYL). Students also opt into a leadership role within our five Pou:
Whanaungatanga: the focus is on mentoring and supporting the younger students, especially those new to the College.
Whakapono: the focus is on the Catholic and Marist (and any other charism) character of our College, and involves the specific prayer and liturgical life of the school, as well as any other events that enhance the Catholic character.
Manaakitanga: the focus is on the humble service of others, including Vinnies, any charitable outreach and pastoral outreach to students who are troubled in any way.
Kotahitanga: the focus is the unifying nature of school activities such as powhiri, assemblies, supporting arts/sports/events, house activities.
Nga Whare Toi: To build community and healthy competition within our College, through House competition and Art and Cultural activities.
Current Student Leadership 2023
The Arts
At St Patrick's Silverstream the Arts are a vital part of school life. Students have the opportunity to take part in Drama, Jazz Band, Choir, Poly Group, Kapa Haka and also display their Visual Art both digitally and in the wider public domain.
Young Vinnies - Community Outreach
Vinnies is the youth arm of the St. Vincent De Paul Society NZ. The St. Vincent De Paul Society, through donations and its various Vinnies Centres, generates the funds to help the poor, elderly and needy in our community. Our symbol shows that we are the hands(arms) of Christ which helps anyone in need, no matter colour, creed or race.
Young Vinnies actively fund raise through Junior Socials, casual clothes days etc. We at St. Patrick's College Silverstream have two major 'can' drives per year to assist the various food banks with much needed supplies for those in need. Winter and Christmas are the biggest demand on resources.
Our students are also active in visiting the elderly at the Home of Compassion. We also assist in the breakfast programme at St Michael's School in Taita. Young Vinnies also fundraise Caritas for international aid issues for countries in need. This money is passed on to CaritasNZ who put the money directly where it is needed.
We teach our students that to actively give up time and energy and reach out to those in need, is doing the work of Jesus. Mostly we do not even see whose lives we have touched, sometimes we do!